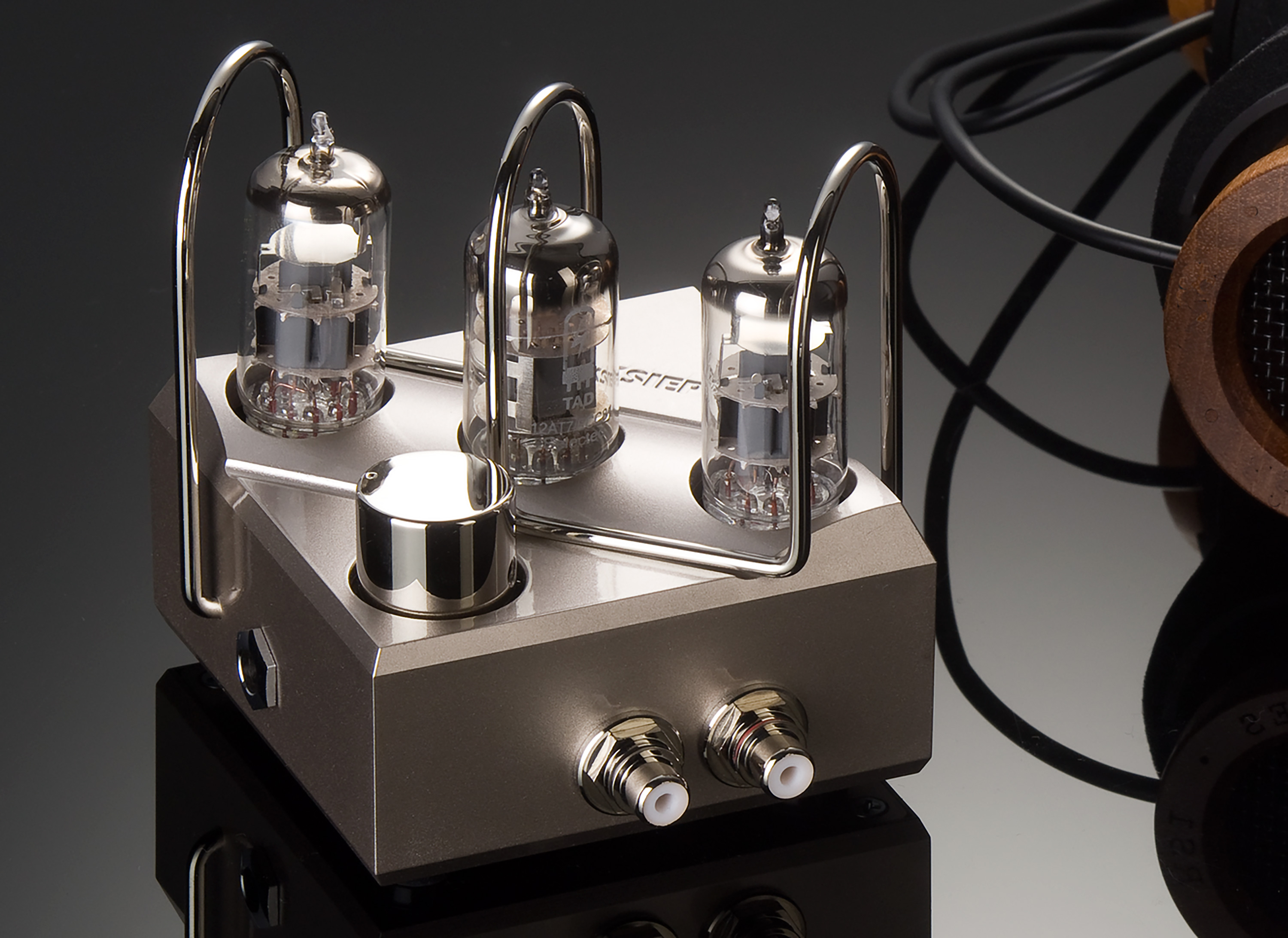 Our EarMax headphone amplifier line features OTL class A triode technology for maximum listening performance for dynamic headphones.
We apply a very minimalistic tube design with Noval double triodes in the input and power section (ECC81 and ECC88).
Our EarMax amplifiers come with an external power supply.
All tubes are hand selected and individually tested. Each unit undergoes a strict quality check and measurement, a 24 hours stress test and fine-tuning, prior to being shipped.
The first EarMax generation started 15 years ago. Due to the overwhelmingly positive customer feedback we have gradually improved the product over time whilst maintaining the integrity of the original design.
2004 we launched our EarMax Anniversary line (limited edition to celebrate the 10th anniversary of EarMax) and 2005 we revealed the "silver edition" variant with increased output power.
Variants
EarMax Pro – for all dynamic headphones with impedance beyond 35 Ohm. For maximum performance we recommend headphones with 200-2000 Ohm impedance.
EarMax – Silver Edition – stronger power supply and output stage for low impedance dynamic headphones (more than 20 Ohm).
References
Test in Gramophone, June 2000
Review Kenn Kessler, Hifi News & Record Review, February 1995
EarMax Pro
EarMax Pro Detail 2
EarMax Pro Detail 1
tubes EarMax Pro
EarMax Pro
Technical Data
EarMax – SE
Bandwidth:
4Hz – 1MHz (600 Ohm)
7Hz – 0,6MHz (35 Ohm)
Frequency response:
20 – 20000Hz +/- 0,1dB
Distortion (THD):
< 0,1% (RL = 35 Ohm ) max.
< 0,03 % (RL = 35 Ohm) typ.
< 0,1 % (RL = 600 Ohm) max.
< 0.002 % (RL = 600 Ohm) typ.
Crossover: better than -80dB/10kHz
Noise, Vol. max.: < -85dB
Ri: 20 Ohm
Signal to noise ratio: > 95dB
Output power: > 50mW (eff.)
Power consuption: 16VA
Weight: 410g (amplifier), 800g (power supply)
EarMax Pro
Bandwidth:
4Hz – 1MHz (600 Ohm)
7Hz – 0,6MHz (35 Ohm)
Frequency response:
20 – 20000Hz +/- 0,2dB
Distortion (THD):
< 0,3% (RL = 35 Ohm) max.
< 0,04 % (RL = 35 Ohm) typ.
< 0,1 % (RL = 600 Ohm) max.
< 0.007 % (RL = 600 Ohm) typ.
Crossover: better than -80dB/10kHz
Noise, Vol. max.: < -70dB
Ri: 35 Ohm
Signal to noise ratio: > 90dB
Output power: > 10 mW (eff.)
Power consumption: 11VA
Weight: 400g (amplifier), 500g (power supply)